Listen to me on "To All the YA I've Loved Before"
Last month I recorded two podcasts, and the first of those went live today! To All the YA I've Loved Before featured me and Cheerleaders from Planet X as part of their "Alien April" month, including an interview with me and then a review of the book. I really enjoyed talking with fellow YA author Kaycee Racer about what life was like as a teen, which honestly was kind of a funny thing to talk about, because it's been years since I even thought about it! You Know You're Old When™.
But it was actually kind of a cool thing, because it gave me the opportunity to talk at length about asexuality, aromanticism, and my journey to discovering I was aro-ace. And honestly? Part of the reason I don't really think about my teen years much is because there was a lot of trauma tied up in them, particularly about being aro-ace but not knowing that was a thing, and thus not knowing what my deal was or why I just wasn't getting this dating thing. But now I do know, and I'm comfortable with it, and have been comfortable with it for so long that now I can look back at my awkward teen years and everything that bothered me about them for so long and be like, "Well, I get it now." I can think about things that happened in high school, and instead of feeling ashamed about them, I can cut my teenage self some slack. And that's a good feeling!
You were okay, teenage me
(And these two were the best friends you could ask for)
I also really enjoyed hearing Kaycee and Sarah's take on Cheerleaders from Planet X, and experiencing the book through fresh eyes. And it was awesome that they enjoyed the audiobook, which was narrated by the very talented Adrian Mayes. I loved Adrian's performance of the book, and it's great that others did, too!
And, since she's mentioned in the podcast, I would like to thank my sorority sister Caitlin, who introduced me to Kaycee and Sarah. And they were right: the City in Cheerleaders from Planet X is very loosely based on the SF Bay Area! As I said in my interview, the book was taken pretty much whole cloth out of a dream. And you know how in dreams, familiar locations get turned kind of topsy-turvy? So there were parts of the City in the dream that were San Francisco, but there was also some Seattle and Portland in there, and Berkeley also came along for the ride. The rural areas outside the City were somewhat of a mixture of the North Bay (where Caitlin and I went to college), San Jose (where my Big used to live), and also just places I would drive through a lot when I lived down there, like the Altamont and Santa Nella for some reason. Your brain does funny things in a dream. Anyway, the fake region that my dream cooked up for me was very appealing, so I wanted to translate that into the book. I'm really glad that resonated with readers!
One last tidbit I want to mention: my old roommate Ana, whom the character of Ana is named after in the book. When that friend mentioned in the podcast invited me to rush her local sorority, Ana had also been planning to invite me to rush her sorority, which was a national multicultural sorority like Laura's. I didn't even know she was planning on doing that—she hadn't mentioned anything, and didn't realize I had rushed the local sorority until I got my bid. But she was so nice and supportive about it, and it was great when our sororities would do things together. Ana was just one more example of how sororities had a positive impact on my life, which is why I so wanted to depict that in Cheerleaders from Planet X.
(We didn't have Greek housing at my school. The Gam-Lam house in the book is based on the Berkeley chapter of my sorority. I actually had girls from two different sororities as roommates throughout my college experience, and I never actually lived with someone from my own sorority!)
Anyway, this has been a real walk down memory lane! More than any of my other books, Cheerleaders from Planet X incorporates elements of my own past in ways I never really connected before doing this interview, and it's nice to be able to reminisce about those days now without the gut-reaction cringe I used to have. I hope you'll check out the podcast:
And To All the YA is also running a giveaway on Instagram of the paperback of Cheerleaders from Planet X, plus some cool swag, That giveaway is ending in just about 24 hours, at 11:59 PM on April 18, so if you'd like to enter, go check it out now!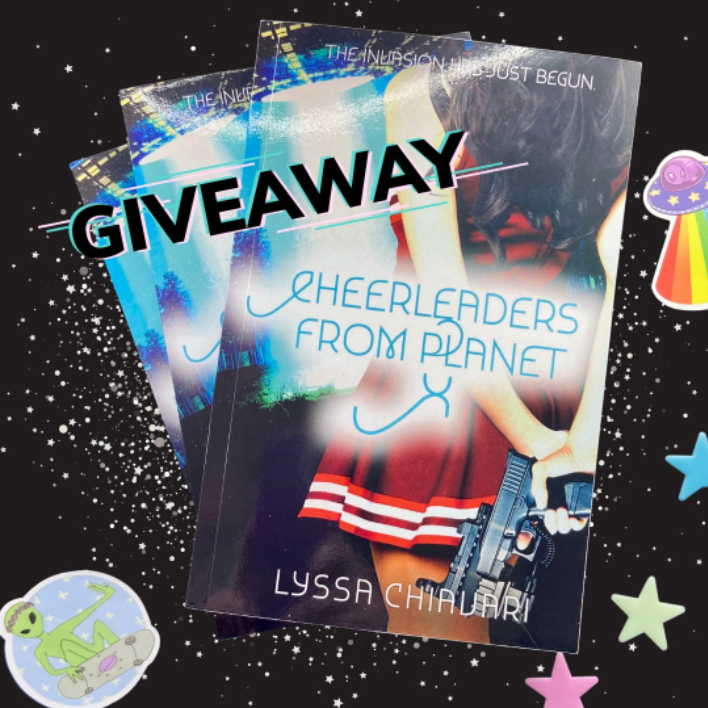 Thanks so much again to Kaycee Racer and Sarah McLaughlin for having me on the podcast!