Coming May 29, 2018 from Snowy Wings Publishing! Available now for preorder.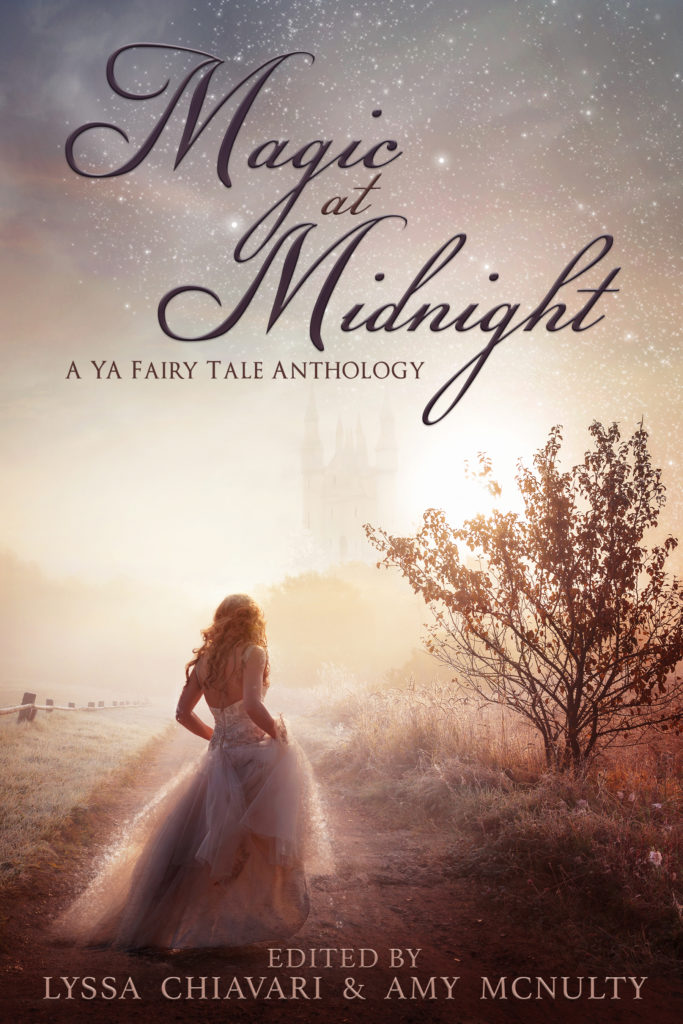 Once upon a time is eternal…

Turn the pages and fall into the enchanting worlds of beloved, age-old fairy tales made new again in this fifteen-story collection from Snowy Wings Publishing.

A girl with long, long hair is trapped in an attic, ensnared by promises of immortality, the radio her only companion. An android wants to believe in her life, that the feelings she has are real—and that she might be just as beautiful as her famous stepsister. A gamer must save her true love from the mysterious, dark entity that has ensnared him in their MMORPG. A modern teen is lured to the fantastical Land of the Dolls, and only her own cunning can help her escape. These are just a few of the bewitching tales found within Magic at Midnight.

From sci-fi to fantasy, contemporary to historical, paranormal and more, there's a fairy tale retelling in this collection for every reader. Featuring stories from bestselling and award-winning YA authors as well as emerging voices, this anthology will take you to distant worlds and back again—all just familiar enough to make you feel at home.
Inside the Stories
"CinderellA.I.," a retelling of CINDERELLA by Lyssa Chiavari, author of the Iamos Trilogy
Madeline knows her role in life—such as it is. She's an animatron, a lifelike robot built to perform in a fairy tale-inspired theme park. And she's an Ugly Stepsister. Her destiny is to play second fiddle to the famous Cinderella, to help her shine before the park's audiences three times daily (five on weekends). But Cinderella isn't content with being the star of the park. She believes she's destined for something more. When Cinderella disappears, Madeline comes to realize that maybe she isn't conscripted to the role the fairy tale laid out for her. And if she wants to save Cinderella, she'll have to believe in herself… and her very life.
"Tresses & Erubescence," a retelling of RAPUNZEL by Amy McNulty, author of the Blood, Bloom, & Water Series
After a fire took her family from her, Zelda had no one to turn to—no one but Leopold, the sweetheart whose father never approved of her impoverished family. The two teens run away together, only to find the world on the brink of World War II a cold and unforgiving place. Ensnared by promises of immortality, they move into the attic of an opulent home owned by a charismatic vampire. One by one, the teens they meet there join the undead until at last there's only Zelda left, a girl with long, long hair trapped in an attic, the radio her only companion.
"Magic All Around," a retelling of THE GOBLIN AND THE GROCER by Jane Watson, author of The Taming of the Dudebro
In a little village high in the mountains, mortals and goblins have lived together for centuries. Yet with the passing generations, mortals have become blind to the goblins and their magic, even when it's right in front of them. Greta, a young goblin, doesn't mind this. She's found that magic has made her kind lethargic and mean-spirited, using their powers to play cruel jokes on unsuspecting mortals. Greta refuses to use her magic, preferring to work in the humble store of a grocer and his wife and enjoy the satisfaction of a hard day's work. She is quite happy spending her days in the store and her nights in one of the rooms above with her talkative kitten, Calla.
Her peaceful life is disrupted the day the grocer's great-nephew, Magnus, moves into the spare room down the hall. Magnus doesn't act like his kindly and hardworking aunt and uncle at all; to Greta, he's lackadaisical, immature and selfish. When not doing his schoolwork, he wastes his days painting rather than helping in his uncle's store. Greta wants nothing to do with Magnus… until she sees his paintings, and feels an inspiration she long forgot was there. As she spends more time with the handsome student, she finds herself questioning everything she thought she knew… and wondering if magic—and love—may be all around her.
"Little Rue," a retelling of LITTLE RED RIDING HOOD by T. Damon, author of the Forest Spirit Series
Rue is not sure what to expect when she accepts a job at an old mansion in the middle of the woods. To make matters worse, she gets the sense that someone—or something—is stalking her. A wolf in sheep's clothing could be lurking in her midst, but Rue may be able to dodge a silver bullet, so to speak—if only she trusts her instincts.
"Dance of Deception," a retelling of THE TWELVE DANCING PRINCESSES by Clara Kensie, author of Deception So Deadly
Memory-wiper Lila is newly accepted into a group of twelve girls who use their psychic powers to hold clandestine midnight dances in the woods. When Michael, a boy from the school paper, discovers their secret, Lila saves the dances—and her new friends—by erasing his memory. But when he returns night after night, she soon falls for the determined yet kindhearted boy. When the other girls set a dangerous trap to keep Michael out of the woods once and for all, Lila must find a way to save him without exposing their psychic secrets, or she'll lose both her new friends and her new love.
"Dance of Deception" is a stand-alone story set in the world of the Deception So paranormal romance series. It features all new characters, some of whom may make appearances in future Deception So books.
"The Goose Girl and the Artificial," a retelling of THE GOOSE GIRL by K.M. Robinson, author of the Golden Trilogy
On her way to becoming queen, Goselyn must complete several tasks, including journeying to a foreign nation to work with Prince Corinth on a treaty. While traveling, her Artificial, Arta, steals her identity, threatening to hurt Goselyn's mother if she doesn't comply. Goselyn must pretend to be an artificially intelligent creation in order to protect her kingdom from her cousin as he controls the technology around her, but when the Arta's threats expand to include the foreign prince, Goselyn must figure out a way to tell the king and prince what is going on without getting everyone killed in the process.
"Morsel," a retelling of HANSEL AND GRETEL by Dorothy Dreyer, author of Phoenix Descending
Synopsis to come.
"The Inventor's Daughter," a retelling of BEAUTY AND THE BEAST by Selenia Paz, author of Life & Death
Synopsis to come.
"The Pitiless Prisoner of Hamelin," a retelling of THE PIED PIPER by Mark C. King, author of The Book Reapers
If the reports are to be believed, then an unspeakable crime had been committed in Hamelin. Representing the criminal behind the alleged atrocity is a task that nobody wants. As a young law clerk, Herr Steinhauser has no choice but to accept the undesirable assignment. What will he find when he sits face to face with the prisoner knows as the Pied Piper?
"The Forest of Carterhaugh," a retelling of THE BALLAD OF TAM-LIN by Karissa Laurel, author of the Stormbourne Chronicles
In the real world, Janae is learning to cope with losing her leg after a tragic accident, but in The Forest of Carterhaugh, a virtual MMORPG, she is a fierce warrior named Lady Janet. In the real world, Janae has a secret crush on Thomás, her questing partner, but in The Forest of Carterhaugh, she and Thomás are an unbeatable duo. The two have vowed to claim Queen Mab's elusive treasure for themselves—a goal no other gamer has been able to accomplish. But when Queen Mab and her evil Knightmares capture and enslave Thomás's avatar, TamLin, Janae loses all contact with her questing partner. Janae will have overcome her greatest fears and self-doubts and learn to accept herself if she's going to save TamLin and re-connect with Thomás in the real world.
"The False Nightingale," a retelling of THE NIGHTINGALE by Mary Fan, author of Starswept
Recently crowned Empress of the planet Caixing, 18-year-old Daiyu finds solace from the pressures of her new role in the company of a young tenor, famed throughout the lands as the Bilin Nightingale. But the arrival of an AI boy with similar abilities both delights and shakes the court, and Daiyu soon learns that being Empress means trusting no one.
A retelling of THE NUTCRACKER PRINCE by Clare Dugmore, author of All It Takes
Synopsis to come.
"Leo 6," a retelling of RUMPELSTILTSKIN by Melanie McFarlane, author of the Descendants Series
Kjersi is a miner. Since childhood she's sported a pickaxe, living underground where her people mine precious gems for the President. When a contest for a rare gem is announced, everyone in the mines is excited because the prize is a ticket to Earth. Kjersi blows it off as nothing more than a trick to increase productivity until her sister falls deathly ill. Now Kjersi must race against the clock and those she's grown up with to try to secure her sister a ticket to Earth before it's too late.
"A Brackish Shore," a retelling of THE LITTLE MERMAID by Leigh Hellman, author of the forthcoming Orbit
Synopsis to come.
"Wires and Blood," a retelling of PINOCCHIO by debut author Madeehah Reza
Synopsis to come.