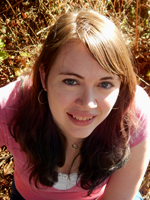 Lyssa Chiavari is an author of speculative fiction for young adults, including Fourth World, the first book in a sci-fi trilogy set on Mars, and Cheerleaders From Planet X, a tongue-in-cheek send-up of all things sci-fi. Her short fiction has appeared in Wings of Renewal: A Solarpunk Dragon Anthology, Brave New Girls: Tales of Heroines Who Hack, Magic at Midnight: A YA Fairytale Anthology and Perchance to Dream: Classic Tales from the Bard's World in New Skins. Her first published story, "The Choice," was named one of Ama-gi Magazine's Best of 2014. Lyssa lives with her family and way too many animals in the woods of Northwest Oregon.
Want to know more about me? Check my FAQ!
Interested in purchasing signed copies of my books? Visit my publisher's online store!
Connect With Me Online
Social Media
Other Places You Can Follow Me