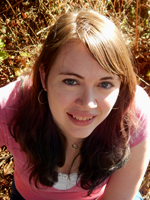 Lyssa Chiavari writes inclusive speculative fiction for young adults, such as Fourth World, the first book in a time-bending sci-fi trilogy set on Mars, and Cheerleaders from Planet X, a tongue-in-cheek send-up of all things sci-fi. Her short fiction has appeared in a number of publications, including the anthologies Magic at Midnight: A YA Fairytale Anthology and Perchance to Dream: Classic Tales from the Bard's World in New Skins, both of which she also edited. Her first published story, "The Choice," was named one of Ama-gi Magazine's Best of 2014. Lyssa is the founder of Snowy Wings Publishing and a member of The Kraken Collective. She lives with her family and way too many animals in Northwest Oregon.
Want to know more about me? Check my FAQ!
Looking for a guide to the LGBTQIA+ representation in my books? You can find that here!
Interested in purchasing signed copies of my books? Visit my publisher's online store!
Photo credit: Elizabeth Okamoto
Connect With Me Online
Social Media
Places Where I Share News and Behind-the-Scenes
Other Places You Can Follow Me