We're back with more author interviews celebrating the release of Perchance to Dream! Today we're hearing from the ever-hilarious Jon Garett and Richard Walsh.
---
Tell us a little bit about your story, "Shoulders of Giants."
Jon: Richard and I have always been drawn to the pulpy side of fiction. An image popped into our heads of telling TA as a 50s style sci fi story- you know, bubble helmets, flying cars and rainbow disintegration rays; you know, all that stuff that we were promised but don't have yet?
Richard: The Jetsons, except for the rainbow disintegration rays.
Jon: So we imagined what it would look like if two patriotic kids got caught up in the same type of war and revenge cycle as we see the characters in Titus Andronicus involved in. But if they had goofy sci-fi technology aiding them in their plots.
Richard: We very consciously wanted the goofiness to be part of it. The tone—whimsy and satire—contrasts with the over-the-top tragedy of Titus.
Jon: The results are, as you might expect, comically tragic. Or tragically comedic. You know, like when a clown dies in a balloon fire.
Richard: Or an elephant is thrown into a murderous rampage by a mouse.
Jon: Pretty much any circus-related comic tragedy. "Shoulders of Giants" is a nod to how scientific advancements can be twisted from noble intentions when applied by human actors with human faults.
Richard: The title is a nod to Newton. It conjures up other great scientists, as well, like Galileo and Einstein. But I think readers will find the main characters, Bridget and Hank, are a long way from those big names.
What drew you to write an adaptation of Titus Andronicus?
Jon: We were shocked to find that Shakespeare's most famous and beloved play had not been called for by some other author! How could we pass it up?
Seriously though, Titus Andronicus (with all due respect to the Great Bard) reads like a reductio ad absurdum. The continuous and shocking scenes of violence just build on each other as each character is diminished and destroyed, yet no one stops the feedback loop.
Richard: So we subverted the play's tone and style. From outrageous tragedy to satire and comedy. This gave us a different way to comment on the same themes as the play: loyalty, revenge, and honor. Ultimately, we wrote "Shoulders of Giants" as an allegory on the current state of US foreign policy and international relations. How easy it is for people to be pulled into a cycle of violence in the name of nationalism or patriotism.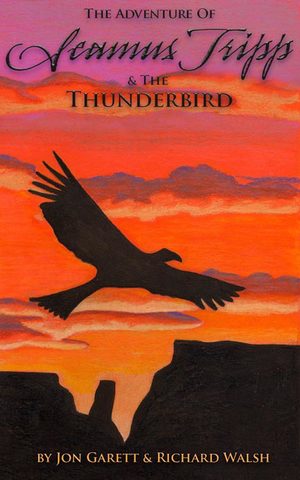 Jon: Titus is full of gruesome acts of violence and betrayal that are justified on grounds of ephemeral concepts like "honor" and "loyalty"—we wanted to expose the absurdity of these motivations in absurd technology and humorous outcomes.
Many of your stories are co-authored with each other—how would you describe that writing process? Is co-authoring more difficult than writing solo?
Richard: I love to talk about process so I'll go. First, we've got a workflow that clearly identifies who owns which tasks. That clear assignment of who's responsible for the next step makes it easier for the other to ask about status. Sometimes we even set deadlines!
Jon: We never hit our deadlines.
Richard: That's definitely the hardest part of the process. But being accountable to one another helps. We've both had corporate jobs that emphasize process. And as soul-crushing and dispiriting as that world can be, it does help us with productivity.
Jon: We're up to six full-length Seamus Tripp adventures and two Seamus Tripp shorts. All available as ebooks and print books. We have three new books in different stages of development, too. And we've worked on several other projects together: this story, an anthology, a few RPG products.
Richard: We've gotten so comfortable with our respective parts of the process that working on something together is a nice break from our personal projects. We have a good cadence for getting stuff done.
Jon: I can leave a note in a draft that would be incomprehensible to the other 99.9999%—whatever percent means "every other person on earth"—of readers. But I know Rich will know what I mean and take the idea and make it ten times better than my thought.
Richard: I think for authors planning to work with a friend on a writing project, review notes could be a stumbling block. Mainly just the tone. Like with any written medium, the tone the reader imagines can really derail productive edits. I don't think Google Docs—that's where we do our work—allows emoticons.
Jon: I wouldn't use them, in any case!
Working in a partnership is really a great motivation, too. We each have our strengths and in leading different sections of production, we drive the other one through the tough parts. As any writer knows, sitting down and just getting words on paper is the biggest challenge. Having someone dependent on you doing your job is a fantastic motivator to shut down Facebook and turn on Word.
The two of you are also the authors of the Seamus Tripp series, a middle grade fantasy-adventure. Could you tell us a little bit about the books?
Richard: Thanks for asking!
Jon: In a nutshell, The Adventures of Seamus Tripp are the books that Rich and I both wish we'd read as kids. It's written in part from the perspective of who we were—Gordon, the bookish, awkward tween—and partly from the perspective of who we wanted to be—Seamus, the cynical, confident, witty, world explorer.
Richard: Gordon and Seamus act like brothers. They're antagonists at the same time as being partners. There's also Elie, a precocious girl who is Gordon's foil—she's confident and courageous; and Myron, the dour accountant who's always trying…
Jon: …book after book…
Richard: …unsuccessfully, to bring Seamus down to earth. I think Gordon's my favorite character.
Jon: Mine, too. But they're all charming. We love the pulp side of fiction and wanted to do a series akin to The Hardy Boys or Oz books, where a reader can jump right into any of the adventures without reading the previous ones. They'll learn more about the characters the more books they read.
Richard: The books are family-friendly and funny, but lots that adults will enjoy, too. Like a Pixar movie.
Jon: The series is set in a Victorian world of monsters, treasure, magic, and mystery. It's like if Indiana Jones were researching the X-Files in the setting of Sherlock Holmes. They were originally written as ebooks and we ran a Kickstarter campaign last summer to fund the print versions.
Richard: Available everywhere—if you buy through our website we'll even autograph them for you! If you want. You have to ask, since we wouldn't want to assume and ruin your books.
Do you have any other upcoming young adult projects besides the Seamus Tripp series?
Jon: For the YA audience, I am perpetually working on the second, um, third and fourth Willy Wise books. Seriously, this time, "Willy 2" is adding some word count.
Also, for a YA audience—if you'll excuse a very few number of instances of rough language—the Agorist Writer's Workshop is releasing a pulp sci-fi anthology this fall. Rich has a story in it and I edited the anthology. We're very happy with the stories portraying the positive outcome of liberty and voluntarism.
---
I hope you enjoyed this interview with Jon Garett and Richard Walsh! You can read their story, "Shoulders of Giants," in Perchance to Dream, which is available now on Amazon, Barnes & Noble, and other major retailers.
If you'd like to learn more about Jon and Richard and/or the Seamus Tripp series, you can follow them on Twitter, Pinterest, and Facebook, or visit their website at SeamusTripp.com. Richard also has a personal Twitter account at @rbwalsh_scifi, where he posts some pretty fantastic space-, sci-fi-, and more-related news almost daily!