Cover reveal for One World!
First of all, thanks to everyone who participated in the Spring 2018 YA Scavenger Hunt last week, and huge thanks to author A.M. Rose for hosting me and my special content on her blog! Congratulations to the winners of the Gold Team prize as well as of my personal giveaway of ebook copies of Fourth World and Different Worlds!
If you didn't participate in YASH, then you haven't seen my special content yet. Well, I'm bringing it to you today! It's the cover reveal for the LAST book in the Iamos Trilogy! I'm so excited to share this cover with you and finally have all three books in the Iamos Trilogy together on my website. Are you ready? Here it is!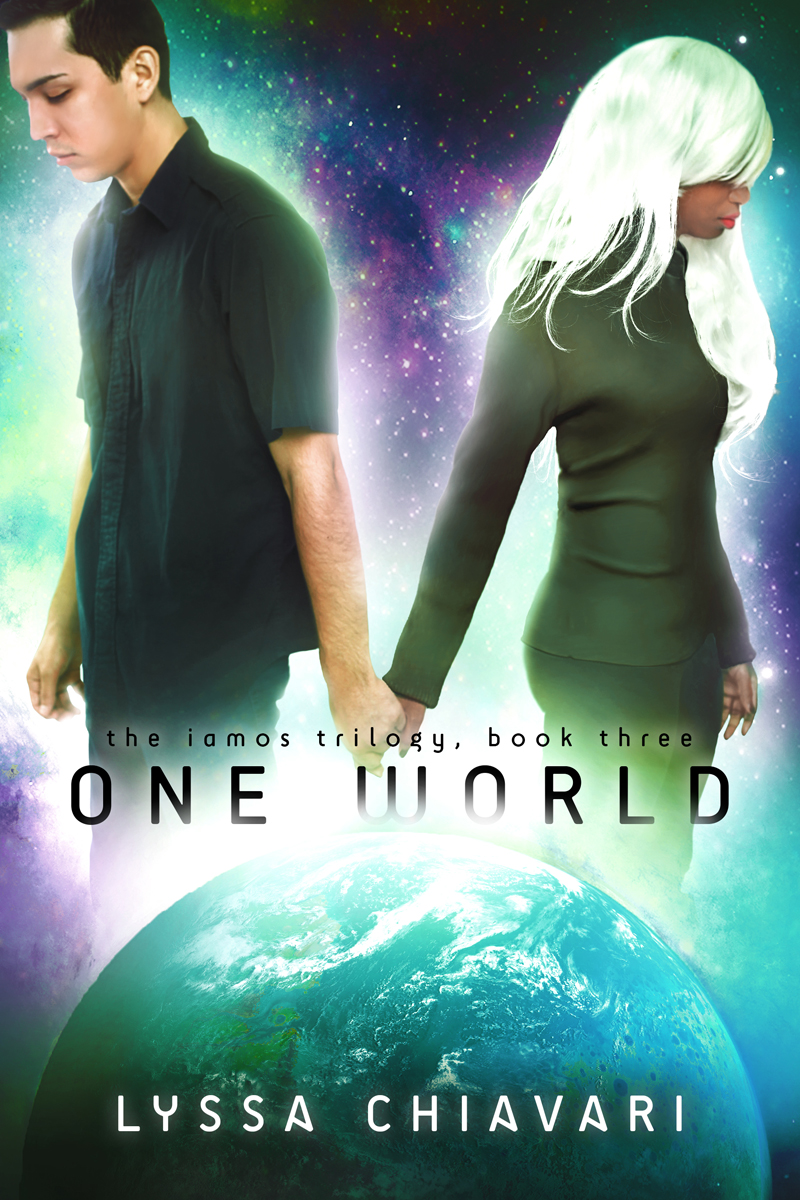 Gorgeous, right? Like the rest of the series, this cover was designed by Najla Qamber Designs with custom photos by Mosaic Stock—photos that were taken THREE YEARS AGO omfg. (Before the model for Isaak got famous! Holy crap.)
Here are all three books of the series together!
I love the evolution of Mars across the three covers from the dead Red Planet we know today to the green world of Isaak's time. ♥
So, what can I tell you about One World? Not a whole lot yet. The reason for that is that book two, New World, hasn't released yet! But it will be releasing soon. It's currently scheduled for a June 26 release date, and that's looking pretty good. If it gets pushed back, we're looking at just a month or so at this point, because there haven't been any major hiccups with New World; it's just a question of getting it finished in time for my editor while also juggling Magic at Midnight.
The Iamos Trilogy, from the get-go, was conceived as a single story in three parts. (Well, sort of. If you've read the series, you'll have noticed that each book is broken into parts as well. But my point is that it's one single ongoing story rather than a more episodic series.) I came up with the main storyline, and then realized it was probably too long for one book. So I wound up deciding to expand it into a trilogy, adding some extra plot points here and there but overall keeping it as one continuous storyline broken into parts.
What this means is that there's no way to write a full-length blurb for One World without spoiling the second book. It's going to have to be done anyway, but I figure I should at least wait until New World is at least out. 😆
In the meantime, I have a short, as-un-spoilery-as-possible blurb on Goodreads if you're interested!
As for the release date? I have no clue. 😅 I would love to have it done by the end of the year because then, all said and done, all three books + Different Worlds will have come out across the span of three years, which wouldn't be that bad. But I'll have to keep you posted on that, because right now I'm still in just the outline phase on it!
In other news, I posted a thread on Twitter last month about the timeline of developing the Iamos Trilogy, a process that took about 5 years (or, exactly 3 Martian years!) from idea to where we are now. (Click the tweet to view the whole thread.)
I can't believe Curiosity has been on Mars for 3 Martian years
That means that it's taken me three Martian years to write the freaking Iamos Trilogy
That's three times longer than Isaak was missing on Iamos jfc

— Lyssa Chiavari (@lyssachiavari) March 30, 2018
Let me know what you think about the cover! I'm so excited to finally be able to share all the covers together!