YA Scavenger Hunt, featuring Julia Ember!
Note: The YA Scavenger Hunt is now over! Thanks to everyone who played and congrats to the winners! I'll be leaving this post up for posterity, but note that the game is over as of October 7.

Welcome to the YA Scavenger Hunt for Fall 2018! I'm so excited to be participating again, and to be a part of Team Orange! For those of you who might not be familiar with it, YASH is a bi-annual event that was first organized by author Colleen Houck as a way to give readers a chance to gain access to exclusive bonus material from their favorite authors…and a chance to win some awesome prizes! On this hunt, you not only get access to exclusive content from each author, you also get a clue for the hunt. Add up the clues, and you can enter for our prize—one lucky winner will receive one book from each author on the hunt in my team! But play fast: this contest (and all the exclusive bonus material) will only be online for 120 hours!
Want to play? Go to the YA Scavenger Hunt website to find out all about the hunt. There are SEVEN contests going on simultaneously, and you can enter one or all! As I said at the beginning of this post, I'm part of Team Orange—but there is also a red team, a blue team, a green team, a gold team, a purple team, and a pink team, and each team gives you a chance to win a whole different set of books!
Here's how it works:
Find the secret number: Below, you'll notice that I've hidden a special number. Collect the special numbers of all the authors on the orange team, and then add them up (don't worry, you can use a calculator!).
Send in your entry: Once you've added up all the numbers, make sure you fill out the form here to officially qualify for the grand prize. Only entries that have the correct number will qualify! To be eligible for the grand prize, you must submit the completed entry form by noon (Pacific Time) on October 7th! Entries sent without the correct number or without contact information will not be considered.
Fine print: Open internationally, anyone below the age of 18 should have a parent or guardian's permission to enter.
If you'd like to find out more about the hunt, see links to all the authors participating, and see the full list of prizes up for grabs, make sure to check out the YA Scavenger Hunt website.
In the meantime, let's get started with the game!
This time I'm super excited to be hosting my friend Julia Ember, who's the author of some of my favorite books, Unicorn Tracks and The Seafarer's Kiss. Today we're going to be celebrating The Navigator's Touch, the sequel to The Seafarer's Kiss!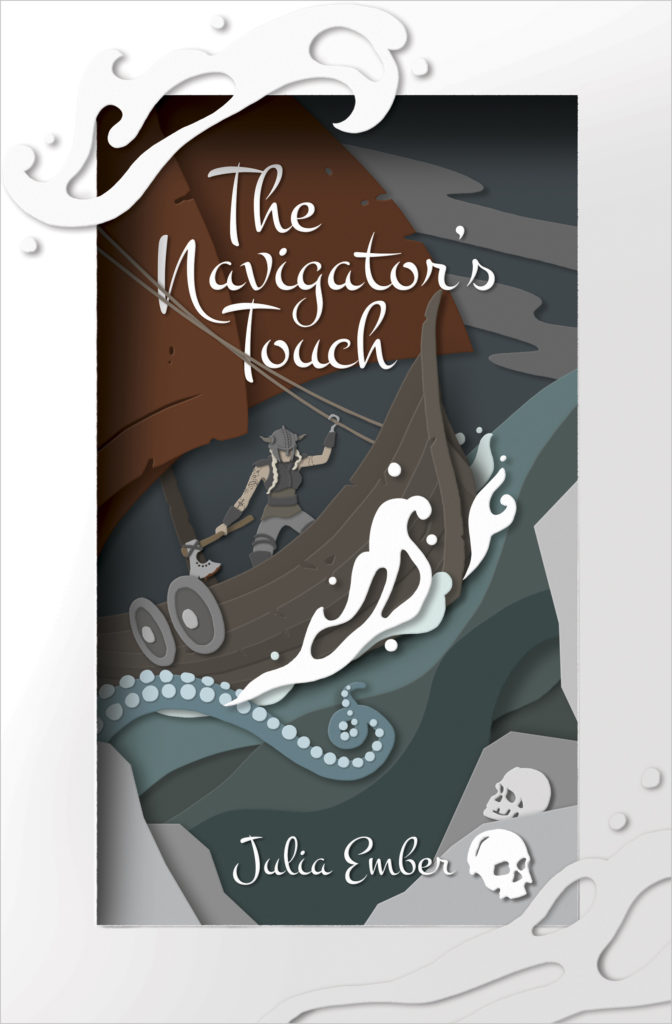 After invaders destroyed her village, murdered her family, and took her prisoner, shield-maiden Ragna is hungry for revenge. A trained warrior, she is ready to fight for her home, but with only a mermaid and a crew of disloyal mercenaries to aid her, Ragna knows she needs new allies. Guided by the magical maps on her skin, battling storms and mutiny, Ragna sets sail across the Northern Sea.

She petitions the Jarl in Frisia for aid, but despite Ragna's rank and fighting ability, the Jarl sees only a young girl, too inexperienced to lead, unworthy of help. To prove herself to the Jarl and win her crew's respect, Ragna undertakes a dangerous expedition. But when forced to decide between her own freedom and the fate of her crew, what will she sacrifice to save what's left of her home?

Inspired by Norse mythology and J.M. Barrie's Peter Pan, this companion novel to The Seafarer's Kiss is a tale of vengeance, valor, honor, and redemption.
I'm in the middle of this one myself, and I can't recommend it enough! Playing the game enters you for a chance to win a paperback copy of The Navigator's Touch, but in the meantime, why not grab a copy of the ebook and start reading now?
Special YASH Goodie!
Just for YASH, Julia made a mood board for The Navigator's Touch. Check it out below!
Thanks so much for sharing, Julia! You can learn more about Julia and all her awesome books (I think fans of my writing would really enjoy her, queer spec fic FTW!) at her website. You can also follow her on Twitter, Instagram and on Facebook!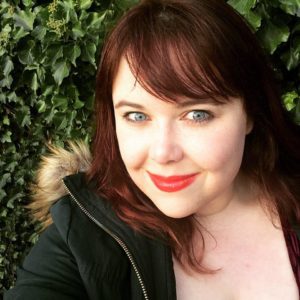 Originally from Chicago, Julia Ember now resides in Edinburgh, Scotland. She lives with her girlfriend and their city based menagerie of pets with Harry Potter themed names. In 2016, she published her first novella, Unicorn Tracks, with Harmony Ink Press. Her first novel, The Seafarer's Kiss, was released by Interlude Press in May 2017. It was heavily influenced by her postgraduate work in Medieval literature at the University of St. Andrews. It is now responsible for her love of beluga whales. Its sequel, The Navigator's Touch, was published in September 2018.
---
One Last Giveaway Before You Go!
That's it from Julia, but the fun is just getting started! After all, have you seen my exclusive reveal yet? Somewhere hidden in this scavenger hunt is a visual inspiration board of my own, for New World, Book 2 of the Iamos Trilogy! I'm so excited to share it with you, and to share the book with the lucky winner of the Team Orange giveaway prize!
But in the meantime, I have a special giveaway of my own going on! The Iamos Trilogy isn't the only set of books I've written—I'm also the author of Cheerleaders from Planet X, a fun and quirky YA sci-fi romance that I think fans of The Navigator's Touch might love. The audiobook was just released a couple weeks ago, so I'm giving away a copy of it here! This giveaway is open to anyone who's able to redeem an Audible.com gift code (I believe US and UK only). Enter below: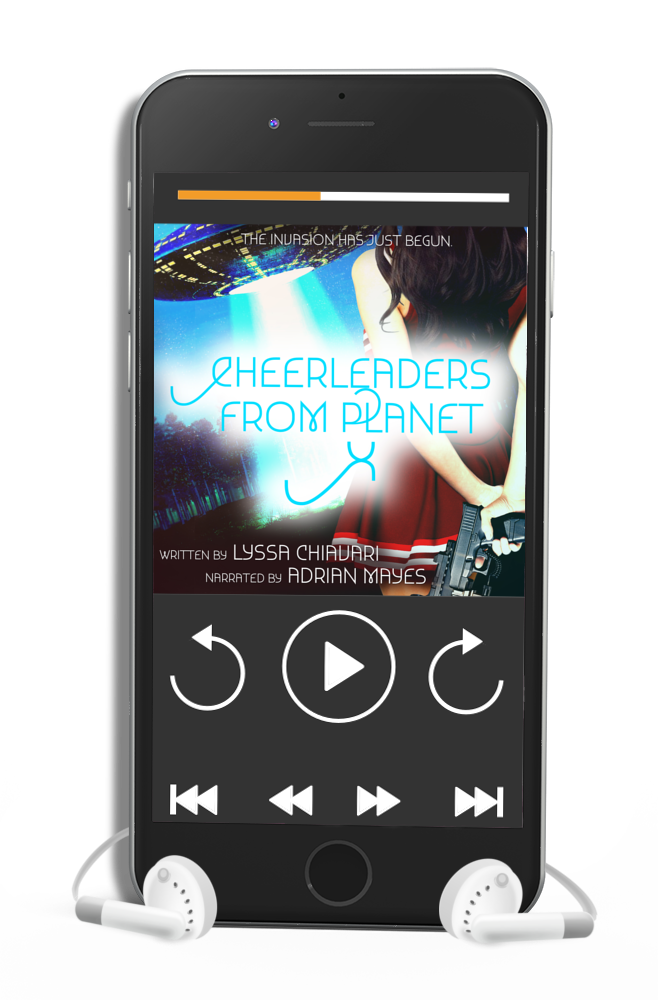 Let the Hunt Continue!
Did you find my special number? I hope so, because it's time to move on to the next member of Team Orange! You can find the next puzzle at Livia Blackburne's blog!