Everything is $0.99!
The Kraken Collective, publisher of Cheerleaders From Planet X, is turning one on February 1. To celebrate, all our books are on sale for $0.99 from now through the first—and, in fact, all my books are on sale, not just Cheerleaders! Yes, for the first time ever, Different Worlds is on sale for $0.99 as well! That's because New World is tiptoeing closer to its release… it may even be up for preorder at a handful of retailers. (Note: that may not be the finalized release date. I'm hoping I might be able to get it out sooner, but hopefully it won't be any later.) You don't have to read Different Worlds before you read New World, but I think it will give a richer understanding of the story if you read it between Fourth World and New World.
There are a lot of fun things happening for this special sale. It even has its own hashtag on Twitter: #KrakenFriends2018!
Not sure which book to start with? Not to worry! Just take this handy personality quiz! Each of the participating authors featured one of the characters from their books for the sale. Find out who you're most like and you may find your next favorite book!
Here's mine: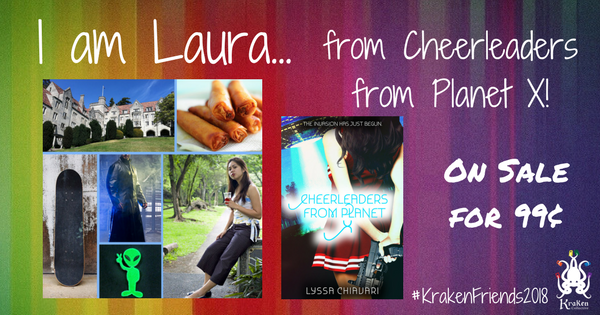 You can see all the participating authors and books at The Kraken Collective's website.
I also have a few things about Cheerleaders From Planet X to share:
Goldie Awards
Cheerleaders has been nominated for three Golden Crown Literary Society Goldie Awards! Two of them are up for vote for members of GCLS: the Tee Corinne Award for Outstanding Cover Art, and the Ann Bannon Popular Choice Award. So if you're a member of GCLS, I appreciate your consideration for these awards!
Spotify Playlist
I discovered the other day that most of the songs I listened to while writing Cheerleaders From Planet X were available on Spotify, so I made you all a playlist! My only disappointment was that Crystal Kay's Vivid album wasn't available in its entirety. Only the song "Superman" was there. The album is available on iTunes/Apple Music, though. So if you're interested, I listened to that whole album while I was writing, but my favorite songs from it are "Haruarashi" and "Yo-Yo (English Version)".
I hope you enjoy! And you can find all my books at all available retailers on my books page.